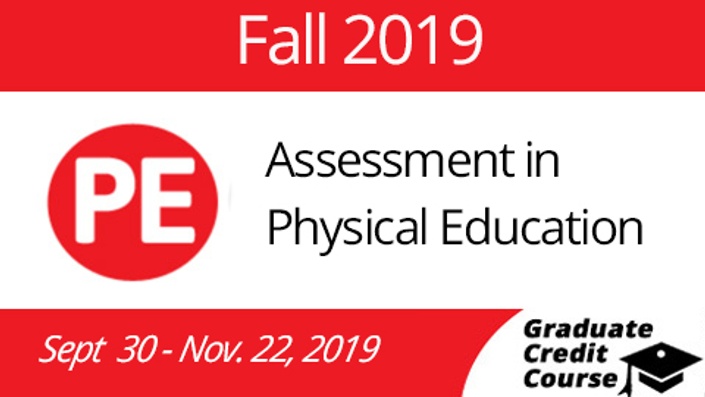 Assessment in Physical Education Grad Course - Fall 2019
Course takes place from September 30 - November 22, 2019 (8 weeks). You must register for this course by September 27.
The course begins on Monday, Sept. 30, 2019 and ends Friday, Nov. 22, 2019 (8 weeks).
You must register for this course by Friday, September 27. Once you register, if you wish to apply for graduate credits, you will also be sent instructions to register at Adams State University. If you are obtaining graduate credits through ASU, there is an additional associated cost of $165. There is no required textbook for this course. Please register for the graduate credits DURING the course.
This course is non-refundable, by registering you are committing to the workload of an 8 week long graduate course.

Need approval from your administration for this course? Click here
We are excited about your interest in taking this graduate level course from PE Central. Below you will find a course description, the instructor's biography, and course FAQ's. This course will last 8 weeks and, if you wish, you can apply for 3 graduate credits (an additional $165) from Adams State University located in Alamosa, Colorado. Please do this during the course as opposed to waiting until the end of course.
If you have any questions about the course, contact us at "[email protected]".
I hope you enjoy the course and working with Dr. Witherspoon.

Mark Manross, Executive Director, PE Central
---
COURSE DESCRIPTION:
This eight-week course will assist teachers in understanding not only the importance of assessment in physical education, but the multiple types of assessments that are essential to a program. Assessment is essential to show student growth, but more importantly to have evidence for stakeholders to evaluate in order to continue to develop a quality physical education program. This course will discuss formative assessment and summative assessment concepts through the use of traditional and technological methods. By the end of this course, teachers will be able to create a variety of assessment tools as well as implement assessment strategies in their classroom. Teachers will realize that assessment is the root of a quality physical education program and must be considered during every physical education class regardless of the grade level. In addition, teachers will know that multiple types of assessments, not just one method, are necessary when evaluating student progress and/or a physical education program.
STUDENT LEARNING OUTCOMES:
Upon completion of this course, the student will be able to:
Realize the importance of assessment in order to improve and continue to develop their program
Understand the difference between formative and summative assessment and realize when each form of assessment is necessary
Develop and implement a variety of assessment strategies including technology-driven assessment tools
Identify appropriate forms of assessments for grade levels and content areas
Understand how to utilize assessment data to influence stake holders opinions and decisions regarding their program
Evaluate your current assessment plan and determine how to modify this plan for improving your program
TEXTS, READINGS, INSTRUCTIONAL RESOURCES:
All course materials such as readings and additional resources will be included in the weekly assignments. There will be articles, PowerPoint presentations, and additional types of information to review when learning the content and completing the assignments. There is no textbook required to purchase for this course.
COURSE REQUIREMENTS:
In order to receive a passing grade, the participant must complete the following course requirements:

Discussion Board Posts: You will complete 5 discussion board posts and be expected to respond to your classmates' posts on a variety of topics.
Quizzes: You will be completing two quizzes (one authentic assessment quiz and one 5 question quiz) throughout the course to show your knowledge of what you have learned up to that point. These questions will be in short answer form.
Develop Assessments: You will create a variety of assessments that can be used in your classroom that align with the National Standards and Grade-Level Outcomes
Technology Tool: You will review a variety of technology assessment tools. In one assignment you will develop a technology assessment. In the second assignment you will blog about technology assessments.
Midterm Assessment: You would complete the midterm Assessment consisting of 15 multiple choice, short answer, and T/F questions.
Final Assessment: You will complete a final Assessment consisting of 5 short answer questions.
Need to get this course approved by your administration and PD Coordinator? Download the course description here.

Your Instructor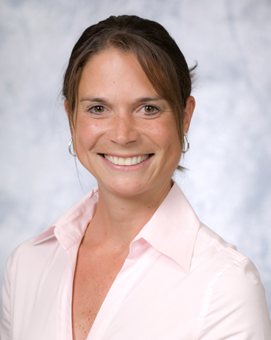 Dr. Lisa Witherspoon is a full-time consultant and a former Assistant Professor at The University of South Florida in the Department of Teaching and Learning. Dr. Witherspoon is an international expert on the subject of technology driven games and exercise with a grounded passion in using technology to reach children in the 21st century. In addition, she serves on National committees and Advisory Boards related to physical education, technology, active gaming, sports and fitness concepts. She was elected as an Inaugural iTeach Fellow at the University of South Florida to assist future teachers and current faculty in using technology in the classroom. Dr. Witherspoon is in the Virginia Tech University Hall of Fame, Catawba Valley Hall of Fame, Newton-Conover Hall of Fame, and was inducted into the ACC Legends class of 2011 for women's basketball. She has designed and implemented various basketball camps all over the country to help young athletes acquire the fundamental skills necessary to feel confident and competent to progress in movement development. Her continued passion is to meet generations where they are in terms of interests and desires in order to help guide individuals in gaining and/or maintaining physically active lifestyles. She teaches 2 other graduate courses for PE Central including Technology in PE and Coaching Issues and Principals.