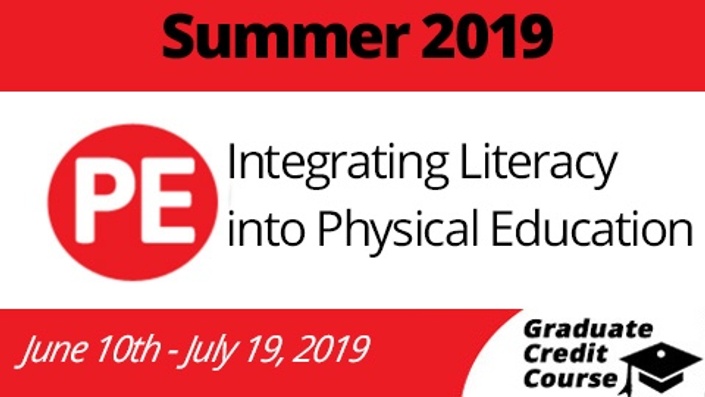 Integrating Literacy into Your Physical Education Program (Grad-Summer 19)
Course begins June 10, 2018 and ends on July 19th 2019 (5 weeks). You must register for this course by June 7th.
Watch Promo
ONLY 25 AVAILABLE SEATS !
The course begins on June 10th and ends on July 19th, 2019.
You must register for this course by June 22nd. Once you register, if you wish to apply for graduate credits, you will also be sent instructions to register at Adams State University. If you are obtaining graduate credits through ASU, there is an additional associated cost of $55.
Need approval from administration for this course? Click here

We are excited about your interest in taking this graduate level course from PE Central. Below you will find a course description, the instructor's biography, and course FAQ's. This course will last 5 weeks and, if you wish, you can apply for 1 graduate credit. (an additional $55) from Adams State University located in Alamosa, Colorado. You will have the week of July 4th off during this course. Upon request we can provide you a Certificate of Completion for 15 professional development hours.

Mark Manross
Executive Director, PE Central

---
COURSE DESCRIPTION:
This five-week intensive course is designed for K-12 teachers who desire to learn how to integrate literacy into in the physical education classroom seamlessly in order to benefit both the teacher and the students. This course will help physical education teachers learn what literacy is, its components, the importance of incorporating it for teachers, students, the physical education program, and the school community, and practical strategies to integrate literacy into the physical education curriculum with ease. Through online activities, discussions, and demonstrations, participants will gain the knowledge, skills, and confidence needed to achieve this goal. Upon completion of the course, students will develop their own literacy plan and methods of assessment.
STUDENT LEARNING OUTCOMES:

Upon completion of this course, the student will be able to:
Recognize the 4 components of literacy and 3 integration strategies for each component.
Evaluate highly effective physical education teachers' methods of literacy integration for each of the four components of literacy, identifying aspects of the literacy component being used in each situation.
Develop lessons appropriate for their grade level using the three literacy components.
Solve common problems in integrating literacy into their physical education lessons effectively through group discussions and reflection.
Formulate year long, weekly, and daily literacy integration lesson plans to use in the physical education classroom.
TEXTS, READINGS, INSTRUCTIONAL RESOURCES:
All Course materials (PowerPoints, articles, web links, etc.) will be uploaded in the course or available online for students to access to complete the course assignments efficiently and effectively. There is no formal textbook that needs to be purchased for this course.
Required Reading:

Buell, C., & Whittaker, A. (2001). Enhancing Content Literacy in Physical Education. Journal of Physical Education, Recreation & Dance, 72(6), 32-37.

Sara Daggett. (2000). Physical Education and Literacy - The Odd Couple or a Match Made in Heaven? Educator's Voice, 3(6), 42-49.
Ming, K. (2012). 10 Content-Area Literacy Strategies for Art, Mathematics, Music, and Physical Education. The Clearing House: A Journal of Educational Strategies, Issues and Ideas, 85(6), 213-220.
COURSE REQUIREMENTS:
In order to receive a Passing grade, the participant must:
Actively participate in discussions and activities related to course.
Complete course quizzes.
Turn in Lesson Plans: Students will be required to turn in three different cumulative lesson plans at the end of the course. The lesson plans must meet requirements in a rubric to obtain a passing grade.
Reflection Paper: Each participant will turn in a reflection paper on the process of creating literacy integration lesson plans.
Need to get your Professional Development Credits approved by administration? Download the course description to provide them here.

Your Instructor
Charles Silberman is a physical education and health teacher with 17 years of teaching experience. He has become a leader and advocate for incoming physical educators by running workshops on integrating literacy into physical education, teaching in limited space, and creating a field day that shines. Charles has advocated on these topics by presenting at staff in-services and conferences, assisting with new teacher orientations, and other initiatives. Moreover, he has experience writing curriculum from scratch and writing published information specific to physical education in state and nationally recognized publications and websites.
Check out Frequently Asked Questions Here!
(You will be prompted to enroll for free in the S&S Online School)
Testimonials
Pamela
Elementary PE Teacher
"I have learned so much from this course! I has given my the boost that I needed to write my goal for the year. In Minnesota we are required to write and execute a professional goal plan for Education Minnesota each year. I will be taking the lessons that I have already done and planning more for my goal for this school year. Delving into the standards has shown me that I can add these tools, charts, writing, reading and must more to help with students learning and studying physical education."
"I am so excited to create more lesson and get started with teaching in this fashion when the school year starts in August. Thank you so much for you guidance and feedback throughout this course!! I am so glad I had the opportunity to take it!! "
"I really enjoyed this course and I'm looking forward to turn keying the information to my colleagues. I've already sent my Department Head some of the articles we've used, and I'm looking forward to sharing out the year long plan and working as an elementary staff to expand upon it and incorporate in all 5 buildings."


"I teach in a K-12 college prep school, so the more I can do to educate the children, the better off we all are. Prior to this course I knew how to integrate literacy into my high school and middle school classes, but I have always been hesitant with my lower school classes - in part because I was not confident in how to do it, and in part because I did not want to give up any of their "physical" time. I now feel confident to step forward and use my new-found knowledge! "