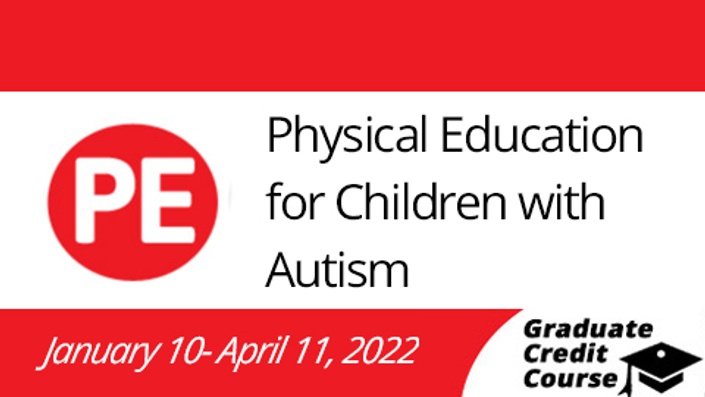 Physical Education for Children with Autism Grad Course (Spring 2022)
Course begins January 10th and ends on April 11th, 2022. You must register for this course by Jan. 9 2022.
Testimonials
Illinois PE Teacher
11+ Years
"This course not only met my expectations but far exceeded them. It was organized well and in a logical way and easy to follow. The content was extremely relevant to what I do on a daily basis. I enjoyed learning about the evidence based practices. I think it is important as a professional that I understand how I can teach students in a way that is supported by the research. ALso the Flexibility!!!! I was able to work on it when I had time in my schedule."
Jackie T.
PE Teacher 7+ Years
"This is a great course for all physical educators even those who may not have students with autism. The course gives you great ideas and resources about dealing with various situations that arise in teaching students with autism and other disabilities. "
Theresa S.
PE Teacher for 11+ Years
"What a great course if you have a busy life like me and you need hours. It has relevant materials to I will be able to use in my everyday teaching. I was able to reach Dr. Block anytime and he responded immediately with an answer. I was a little worried about the communication piece but he put that to rest right away."


Leslie K.
Adapted PE Teacher
"I highly suggest this class for ALL educators, caregivers, parents, and professionals that work with our special education population, as well as in general education. There is so much information provided, that you can learn one or many things from it."
Shianne M.
PE Teacher 7+ Years
"If you are new to working with students with Autism this class helps make sense of everything and gives you an amazing set of tools to help in your classroom.Learning the different techniques to use with behavioral problems was the most beneficial for me. I feel overwhelmed at the beginning of each year with my specific elementary group autism class because each student is so different."


"This class was extremely beneficial to me and I learned a lot of new ideas and strategies that I am looking forward to implementing! I liked all of the topics and learned lots because I do not have much experience working with ASD students. I found the discussion questions really beneficial because I got to hear about what other people are doing currently and gain a lot of ideas and knowledge from them, as well. With a baby at home, it was super convenient to be able to work at my own pace when I had the time, rather than having a set time that I had to be in class each day."
What Teachers are saying...
"I was assigned a new Kindergarten Autism Class this fall for Adapted P.E. The information learned in this course gave me a better understanding of strategies I could immediately use to provide a safe and effective learning environment for my students. Dr. Block was so kind, responded to questions quickly and readily provided his expertise during class discussions. His feedback on assignments was awesome...very detailed and truly coming from an expert in the field of Adapted P.E. What I loved most was his down-to-earth approach with us as learners. Truly a beneficial class!"
The course begins on January 10th and ends on April 11, 2022 (12 weeks).

You must register for this course by January 9, 2022. Once you register, if you wish to apply for graduate credits, you will also be sent instructions to register at Adams State University. If you are choosing to purchase the optional graduate credits through Adams State, there is an additional associated cost of $165 (which is a separate payment to ASU during the semester). There is a required text as well.
Need approval from administration for this course? Click here
Welcome!
We are excited about your interest in taking this graduate level course entitled "Physical Education for Children with Autism Online Course" from PE Central. Below you will find a course description, the instructor's biography, and course FAQ's. This course will last 12 weeks and, if you wish, you can apply for 3 graduate credits (an additional $165) from Adams State University located in Alamosa, Colorado. You will need to purchase the book required for this course on your own. It is highly recommended you have the book in your possession on the date the course starts.
If you have any questions about the course, contact us at [email protected]
Enjoy!
PE Central
COURSE DESCRIPTION:
This is an asynchronous, online course. Students will receive an email Sunday evening each week with a reminder of the topic of the week, readings, assignments related to the topic including discussion questions and due dates, and any previous assignments that are due that week. Students can progress through the readings and assignment at their own pace during the week.
The online class is designed for physical education teachers and adapted physical education specialists who want to learn more about the specific challenges and best practices when teaching children with autism. You do not currently need to be working with students with autism but it does help. If you do not Dr. Block will work with you as you can use previous experiences.
Who Should Take:
Practicing PE and Adapted PE specialists who want to learn about the challenges and best practices when teaching children with autism. Students taking this course should currently work with children with autism in a physical education/physical activity setting.

STUDENT LEARNING OUTCOMES:
By the end of the course, students will be able to:
Define autism and related characteristics associated with autism that have the greatest impact on physical education.

Identify key team members (e.g., therapist, teachers, parents) who can assist the physical educator when working with students with autism

Demonstrate the ability to create a long-term physical education/physical activity plan for a child with autism. Based on this long-term plan, assess a child on objectives needed to master the long-term plan, and from this assessment create a present level of performance and specific learning objectives.

Understand and describe key aspects of the Applied Behavior Analysis (ABA) and how ABA might be applied in a physical education setting.

Understand and describe key aspects of the Treatment and Education of Autistic and Communication related handicapped Children (TEACCH) and how TEACCH might be applied in a physical education setting.

Understand and describe key aspects of Video Modeling and how it might be applied in a physical education setting.

Demonstrate teaching strategies based on previously identified evidenced-based practices that can be used with children with autism in a physical education setting.

Demonstrate the ability to create a behavior management/positive behavior support plan for a child with autism.
Required Texts:
Block, M.E. (2016). A teacher's guide to adapted physical education (4th ed.). Baltimore: Paul. H. Brookes. ISBN: 978-1-59857-669-6.
Assignments:
7 major assignments including creating a plan and assessing children with autism, creating a visual support, learning about the STEP Model, discussion board posts, writing a behavior plan and finishing with a 30 question multiple-choice final exam.
Grading:
Each student taking this course will receive a grade A-F.

Course Dates:
This course will take you 12 weeks to complete. The course starts on Jan. 6 and ends on March 27, 2020.
Need to get this course approved by your administration and PD Coordinator? Download the course description here.

Your Instructor
Martin Block is a Professor in Kinesiology in the Curry School of Education at the University of Virginia where he teaches courses in adapted physical education and motor development. He is the author of over 75 peer reviewed articles, 20 chapters in books, and 5 books on adapted physical education and motor development including A Teachers' Guide to Including Students with Disabilities in General Physical Education (3rd edition) and Developmental and Adapted Physical Activity Assessment.
Professor Block also has been a consultant with Special Olympics, Inc., since 1988, where he was the primary author of the Motor Activities Training Program (MATP), a sports program for athletes with severe intellectual disabilities. Professor Block is the Editor of the Journal Palaestra, he is President-elect of the International Federation of Adapted Physical Activity (IFAPA), and he is past-president of the National Consortium for Physical Education for Individuals with Disabilities (NCPEID). Finally, Professor Block is the Coordinator of the Adapted Physical Education Module for the European Masters Program in Adapted Physical Activity based at the Katholiek University in Belgium, and he is a consultant for the Adapted Physical Activity Research Center at Beijing Sport University in China.
Dr. Martin Block
Email: [email protected]