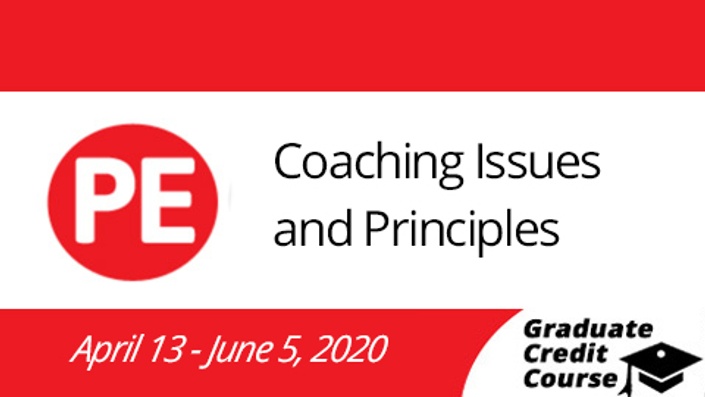 Coaching Issues and Principles - Summer 2020
Course runs from Monday, April 13 and ends Friday, June 5, 2020 (8 weeks). You must register for this course by April 11, 2020.
The course begins on April 13, 2020 and ends on June 5, 2020 (8 weeks).

You must register for this course by April 10, 2020. Once you register you will also be sent instructions to register at Adams State University if you choose to obtain graduate credits for this course. If you do choose to obtain them, there will be an additional cost of $165.
Need approval from administration for this course? Click here
Welcome!
We are excited about your interest in taking this graduate level course entitled "Coaching Issues and Principles" from PE Central. Below you will find a course description, the instructor's biography, and course FAQ's. This course will last 8 weeks and, if you wish, you can apply for 3 graduate credits (an additional $165) from Adams State University located in Alamosa, Colorado.
If you have any questions about the course, contact us at [email protected]
Enjoy!
PE Central
COURSE DESCRIPTION:
This 8-week course is a comprehensive introduction and refinement to the coaching profession. The emphasis of this course will target coaching at a variety of levels including but not limited too youth sports, high school sports, intercollegiate sports, etc. The primary goal of the course is to develop and enhance students' knowledge and understanding of concepts and techniques of coaching and their application to achieving important objectives in working with athletes. The instructional format and schedule for the course closely follow the organization of the textbook for the course, Successful Coaching, Fourth Edition by Rainer Martens and other online resources through the American Sport Education Program (ASEP). Students will register for the online course to obtain access to the resources that compliment the assignments and readings. The course and textbook combine sport science theory and research with the practical knowledge and methods of expert coaches. Principles and practical applications are presented and thoroughly explained for the various dimensions of coaching. Upon completion of this course and a score of 80% or higher on the final exam, students will receive a National Certification in Coaching through American Sport Education Program (ASEP). The certification is not required to pass this course.
STUDENT LEARNING OUTCOMES:
Upon completion of this course, the student will be able to:
Gain an extensive philosophy to the morals, ethics, and ideas of sport and athletics.

Identify the knowledge and challenges that are applicable to the various needs.

Recognize motivational approaches that are appropriate to the developing and participation.

Identify strategies to foster a team environment through cooperation and respect.

Understand psychological principles and applications for effectively communicating with and listening to athletes, for optimally motivating athletes, and for managing behavior problems in a positive and effective manner.

Realize the importance and have knowledge of how to help players develop individual goals and of establishing team goals.

Establish procedures in order to evaluate and improve their own coaching behaviors.
TEXTS, READINGS, INSTRUCTIONAL RESOURCES:

Required Registration (Register here). This is the site at which you will order your text, register for access to the video resources, and to take the final exam. The cost of the required text and resources is $60 for an e-book OR $70 for a printed version that will be mailed to you. When you are at the website make sure you choose the ONLINE course when selecting your printed book or E-book.
Required Text: Martens, Rainer. 2012. Successful Coaching. 4th ed. Champaign, IL: Human Kinetics. This book MUST be purchased NEW from this website as this will allow you access to the final exam. DO NOT purchase from an outside online source like Amazon, eBay, etc.
COURSE REQUIREMENTS:
In order to receive a passing grade, the participant must complete the following course requirements:

Initial Coaching Philosophy: You will develop an initial draft of your coaching philosophy. This will be refined throughout the course.

Discussion Board Posts: You will complete 4 discussion board posts and be expected to respond to your classmates' posts on a variety of topics.

Quizzes: You will be completing 2 quizzes throughout the course to show your knowledge of what you have learned up to that point.

Observation/Reflection: You will be asked to attend a sporting event and then complete a reflection based on your observation. Although this is due late in the course, keep this assignment in mind to plan for where you will be observing.

News/Article Review: You will be provided articles in the News related to coaching and asked to write a reflection on the content.

Practice Plan: You will develop a sample practice plan incorporating various strategies discussed in your text and instructional videos.

Midterm Assessment: You would complete the midterm assessment consisting of 20 multiple choice and T/F questions.

Final Coaching Philosophy: You will have been refining your coaching philosophy throughout the course and asked to submit a final version.

Final Assessment: At the conclusion of the course you will be given a final assessment. The final assessment will consist of 100 questions. This is the ONLY assignment you will have that will be submitted through the ASEP website. A score of 80% or higher will allow you to receive a National Certification but will not determine if you pass this course.
Need to get this course approved by your administration and PD Coordinator? Download the course description here.
Your Instructor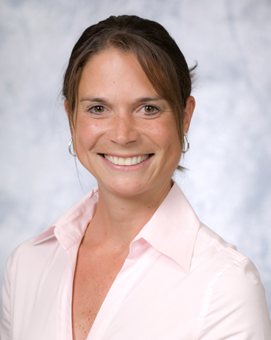 Dr. Lisa Witherspoon is a full-time consultant and a former Assistant Professor at The University of South Florida in the Department of Teaching and Learning. Dr. Witherspoon is an international expert on the subject of technology driven games and exercise with a grounded passion in using technology to reach children in the 21st century. In addition, she serves on National committees and Advisory Boards related to physical education, technology, active gaming, sports and fitness concepts. She was elected as an Inaugural iTeach Fellow at the University of South Florida to assist future teachers and current faculty in using technology in the classroom. Dr. Witherspoon is in the Virginia Tech University Hall of Fame, Catawba Valley Hall of Fame, Newton-Conover Hall of Fame, and was inducted into the ACC Legends class of 2011 for women's basketball. She has designed and implemented various basketball camps all over the country to help young athletes acquire the fundamental skills necessary to feel confident and competent to progress in movement development. Her continued passion is to meet generations where they are in terms of interests and desires in order to help guide individuals in gaining and/or maintaining physically active lifestyles. She teaches 2 other graduate courses for PE Central including Technology in PE and Coaching Issues and Principals.