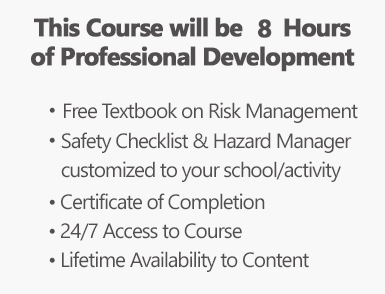 This course will take approximately 8 hours to complete. If you have any questions about the course, please email us at "courses@ssww.com".
Need to get your Professional Development Credits approved by administration? Download the course description to provide them
here.

---
Introduction:This is a course about safety. It is about how to lessen the chance of students getting hurt in your class. It will also address another kind of safety - safety from legal entanglements, for the teacher, the department director and school district.Meeting your duty to appreciably decrease the chance of harm is actually boring. You must be safety conscious every day. There is no "day off" when it comes to safety. It is however, a paramount if not your paramount duty.

Forty-nine years ago, I asked a teacher why he selected a rather combative game and why he did not use protective mats? He said the game has been played forever. It is standard practice. That was my first experience as an expert witness in a courthouse. We will discuss the difference between the standard of practice and the standard of care in this course.
We will cover issues such as facilities, equipment, instruction, questionable activities, mis-matching students, warnings and the number one reason we are called into court - the failure to properly supervise.Through readings, projects, a review of some of the actual law suits in which I have served as a consultant and/or expert witness, electronic and old-fashioned communication your knowledge about risk management will be enhanced.
Target Audience: K-12 Physical Education Teachers
Instructor: Dick Borkowski
Course Purpose: To offer concepts, strategies and information that will lower the chance of injury to students in the physical education environment. It will cover ways of managing risks. It is also a primer for teachers regarding legal exposure. We live in a litigious society and teachers must be sensitive to this current atmosphere.
Course Description: The course is designed to help teachers understand and appreciate their duty of care as it relates to managing risk in physical education.My goal is, through readings, examples of real cases, projects related to her/his teaching situation and conversations, to make you cognizant of the strategies to decrease the chances of injury. Note that I say decrease, not eliminate. Regardless of some academicians and lawyer's suggestion that a teacher must ensure the safety of every child, this is an impossibility.
Fewer injuries mean fewer lawsuits. This means less energy, less worry and less money will be required to battle litigation. All those resources can then go to children.The course is for the new and experienced teacher. For the guy or girl who works with children every day. It is, in many ways about common sense, starting with caring about children.
Course Goals:
Review the legal duties of a physical education teacher.

Understand the difference between standard of practice and the standard of care.

To offer a defensive game plan for teachers and students.

Review and identify the potential hazards related to programs, fields, facilities and activities.

Experience individual safety checklist for various activities and sports.

You will develop a program specific safety checklist related to your situation.

Teachers will be given the necessary information to meet their risk management duties, including communicating the student's responsibility.

Offer a list of additional resources in risk management.

To share what this instructor has learned during a lifetime of teaching and serving as a physical education and sport safety consultant and expert witness.
Technology needed to complete: You will need a computer and/or tablet Microsoft Word and PowerPoint. You will also need an email address to contact the instructor or turn in materials.
Need to get your Professional Development Credits approved by your administration? Download the course description here.